This is my go-to smoothie. I can make it in less than five minutes, it's super delicious, filling, and nutritious. It's perfect for busy mornings when I'm working or homeschooling my daughter.
The best part about this smoothie, though, is how it can benefit your skin! It contains foods that are high in vitamins A, C, E, K, plus biotin, magnesium, zinc, and omega-3 fatty acids. I have also added collagen peptides for an extra glowing skin boost. Here's a look at how these nutrients can help promote a healthy, clear, complexion from the inside-out:
Vitamin A– An antioxidant that can help decrease skin aging and acne by fighting free-radicals and inflammation.
Vitamin C– Another antioxidant that supports a healthy immune system, promotes radiant skin, and helps blemishes heal faster. This vitamin is also a building block for collagen production in our bodies.
Vitamin E– Also an antioxidant, this vitamin helps protect against sun damage which can prevent dark spots and premature aging. It also helps balance oil and reduces inflammation.
Vitamin K– This particular form of vitamin K, is K1 (primarily found in dark, leafy, greens). It helps aid in the skin's healing process which can reduce inflammation, redness, and swelling.
Biotin– Another building block for the production of collagen in our bodies, it also helps regulate oil production due to its role in our daily metabolic functions.
Magnesium– Helps to improve the skin's overall appearance. May reduce acne by lowering cortisol, balancing hormones, regulating blood sugar, and fighting inflammation.
Zinc– This trace mineral can help with acne and acne scars. It boosts the immune system, which in turn helps lower inflammation. It also helps with collagen formation, wound healing, oil regulation, and cell turnover too.
Omega-3 Fatty Acids– Specifically the plant form, alpha-linolenic acid (ALA) in this smoothie. Omega-3's can help lower inflammation, improve skin barrier function, accelerate wound healing, and may reduce acne.
Collagen– An important building block for the skin. Collagen helps keep the skin firm, plump, hydrated, and radiant.
Alright, it's time to get glowing! 😉✨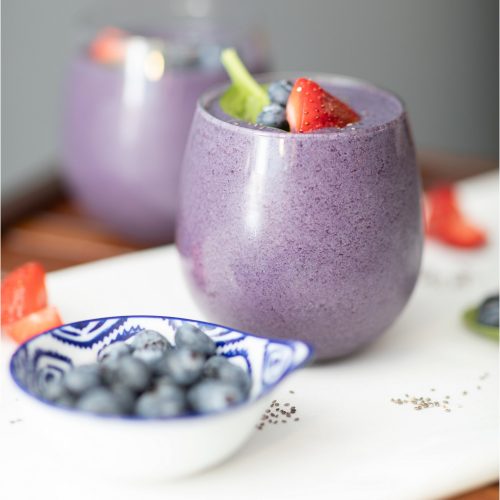 Glowing Skin Berry Collagen Smoothie
Give your skin a boost with this delicious smoothie recipe full of antioxidants and vitamins that promote a beautiful glow from the inside out.
Print
Pin
Rate
Equipment
Blender

Measuring Cups

Measuring Spoons
Ingredients
1/4

cup

Organic Frozen Blueberries

1/2

cup

Organic Frozen Strawberries

1/4

cup

Coconut Milk Yogurt

plain, unsweetened

1/2

cup

Fresh Organic Baby Spinach

1

cup

Coconut Almond Milk

vanilla, unsweetened

1

tbsp

Sunflower Seed Butter

raw, unsweetened

1

tsp

Organic Chia Seeds

1

scoop

Collagen Peptides*

grass-fed, pasture-raised
Instructions
Add all ingredients to a high-speed blender and blend until desired consistency is reached. If you prefer a thicker consistency, feel free to add a little ice before blending.

Pour into a tall glass and enjoy!
Notes
*I use a high-quality grass-fed, pasture-raised, bovine collagen peptide powder due to its diverse amino acid profile. Bovine has also been shown to be the most effective and potent source of collagen. If you follow a vegan dietary plan, you can skip the collagen powder and add 1 scoop of a high-quality, professional-grade, buffered vitamin c powder instead. 
Always consult with your health care practitioner before using supplements. Especially if you are pregnant, breastfeeding, or have a serious medical condition. 
Additional Resources:
Pullar, J. M., Carr, A. C., & Vissers, M. (2017). The Roles of Vitamin C in Skin Health. Nutrients, 9(8), 866. https://doi.org/10.3390/nu9080866
Galimberti, F., & Mesinkovska, N. A. (2016). Skin findings associated with nutritional deficiencies. Cleveland Clinic journal of medicine, 83(10), 731–739. https://doi.org/10.3949/ccjm.83a.15061
Ogawa, Y., Kinoshita, M., Shimada, S., & Kawamura, T. (2018). Zinc and Skin Disorders. Nutrients, 10(2), 199. https://doi.org/10.3390/nu10020199
Bolke, L., Schlippe, G., Gerß, J., & Voss, W. (2019). A Collagen Supplement Improves Skin Hydration, Elasticity, Roughness, and Density: Results of a Randomized, Placebo-Controlled, Blind Study. Nutrients, 11(10), 2494. https://doi.org/10.3390/nu11102494
Balić, A., Vlašić, D., Žužul, K., Marinović, B., & Bukvić Mokos, Z. (2020). Omega-3 Versus Omega-6 Polyunsaturated Fatty Acids in the Prevention and Treatment of Inflammatory Skin Diseases. International journal of molecular sciences, 21(3), 741. https://doi.org/10.3390/ijms21030741